Apps & Software, by Offimac
For 40 years we provide software solutions for business
And we specialise in Microsoft Dynamics apps and software for branches
Contact us for industry solutions or for a partnership with us!
We are your partner for industry-specific Microsoft Dynamics software and apps
For every organisation the use of apps and business software solutions is a must nowadays. Because every business need to be organised efficiently. And every company wants to lower costs while providing good customer service. We are in business for more than 40 years already. And we have solid apps and software solutions for many industries. We implement ERP solutions based upon Microsoft Dynamics 365 Business Central. On top we empower the Business Central solution with our Offimac add-ons and apps for specific industries. So customers can quickly benefit from functionalities. And they do not need tailor-made development anymore.  For customers who even want more, we have additional apps and software for planning and CRM. 
Looking for an industry solution for our company? Or interested in a partnership with us? Get in touch with us!
Why Microsoft Dynamics Business Central as your business platform? Because it is the best for SMB!
In Microsoft Dynamics 365 Business Central you find a lot of software modules. And the power of this platform is that it has an application for every department. All of these applications seamlessly work together. On top they communicate with each other. And they provide good reporting. Our strengths are 40 years of experience, an ISO approach and Microsoft CfMD certifications. Our software is tested and approved by Microsoft. And therefore was granted the high-level Microsoft CfMD label. Because our software and apps are excellent in quality, support and future developments.
These are some of the standard Business Central modules:

Our business software runs on Microsoft. And is designed for mobile apps!
Microsoft Dynamics is business software for every department of your company. And it can run on every device. Whether you are using the software in the office, at home or on the move, you can use Microsoft Dynamics and Business Central software. Because it runs on Windows, Apple and Android. And it can be used on pc, tablet, laptop or smartphone. Microsoft Dynamics Business Central is mobile by design. And that is what customers expect from their business platform today.
Looking for a mobile business software solution? This is the platform that will help you!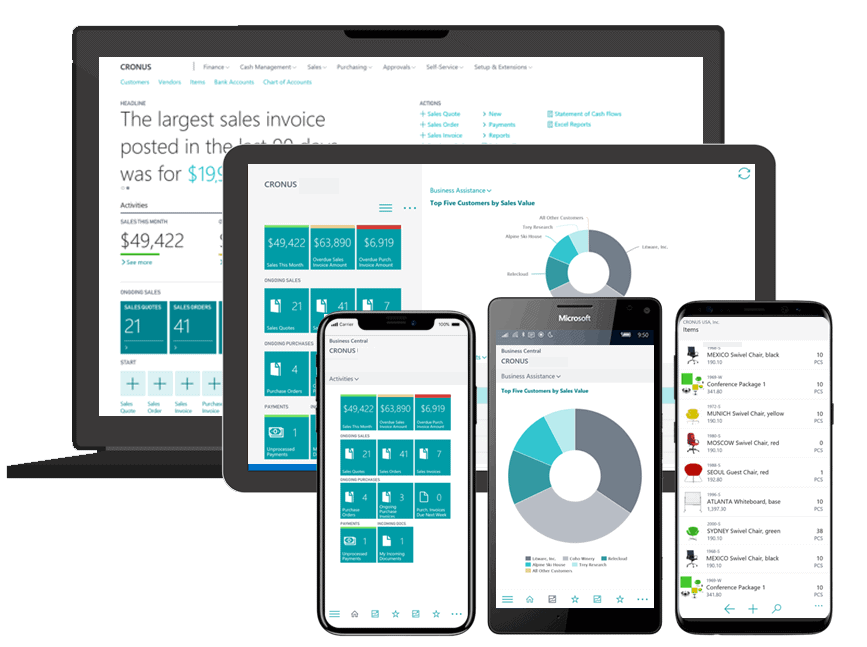 Extra vertical apps and solutions for Microsoft Dynamics Business Central: